Prague Castle Map | Find Your Way Through Prague Castle Complex
Contents
Prague Castle, a magnificent UNESCO World Heritage site, is a must-visit destination in Prague. With a rich history dating back to the 9th century, it stands as a testament to the city's past and is the largest ancient castle complex in the world. Visitors come from across the world to admire Prague Castle's stunning architectural styles, from Gothic to Renaissance and Baroque, and explore its rich history. 
This page will help you unlock the castle's treasures and navigate through its intricate maze of courtyards, gardens, and buildings, ensuring you don't miss any of the must-see attractions.
Prague Castle Location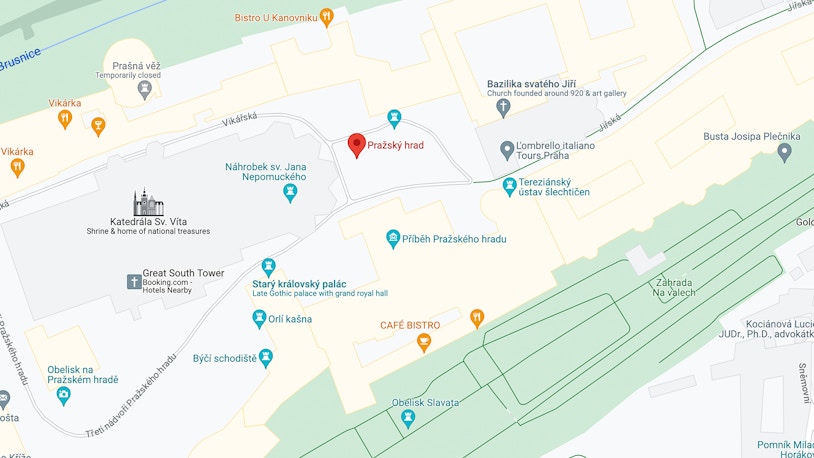 Address: Hradčany, 119 08 Prague 1, Czechia
Prague Castle, located in the heart of Prague, Czech Republic, is perched atop a hill overlooking the picturesque city. Situated in the Hradčany neighborhood, it boasts a commanding presence on the left bank of the Vltava River. Its strategic position offers breathtaking panoramic views of Prague's charming rooftops, spires, and bridges. The castle's location also makes it easily accessible to visitors from anywhere in the city.
Getting To Prague Castle
Prague Castle Map
Since it was built in around the 880s, it has come across several expansion and renovation projects, most notably around the 10th & 14th centuries. Because of this, the Prague Castle complex includes several ecclesiastical buildings and offices of various architectural styles, beautiful gardens, courtyards, churches, and chapels. Let us help you find your way through the castle.
Historical Buildings
Gardens
Courtyards
Nearby Stops
Entrances
Old Royal Palace
St. George's Basilica
Great South Tower Of The Cathedral
Garden on the Bastion
Terrace Of The Riding School
Queen Anne's Summer Palace Garden
Stag Moat
Horticultural Gardens
South Gardens
Orangery
Vineyard Garden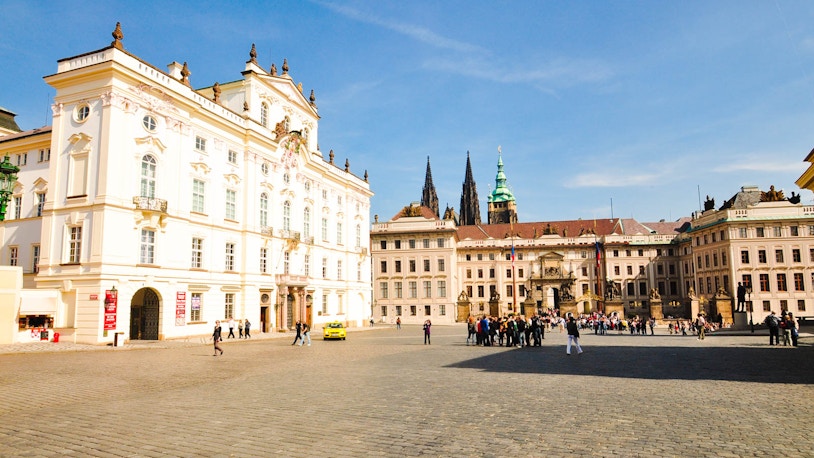 Courtyard I
Courtyard II
Courtyard III
Courtyard IV
Pražský hrad Tram Stop
Pohořelec Tram Stop
Malostranská Metro Stop
Malostranská Tram Stop
Královský letohrádek Tram Stop
All Your Questions About Prague Castle Map Answered
What are the entrance gates to Prague Castle?
The I Courtyard Entrance
The II Courtyard
The Na Opyši Gate
The Royal Summer Palace Entrance
How will I enter the Prague Castle if I get down at Pražský hrad tram stop?
A. If you get down at the get down at Pražský hrad tram stop, you will gain access to the Prague Castle complex via 2nd Courtyard. You can find more information about it on Prague Castle Location page.
Which entrance should I choose to enter the Prague Castle?
There are multiple entrances at Prague Castle, located at different sides of the castle complex. You can choose your entry and exit point as per your convenience.
How far is Prague Castle from the Prague Airport?
The Václav Havel Airport Prague or PRG airport is located 12.2 km away from the Prague Castle. Prague Castle is connected to the airport by various private and public modes of transport. Make sure to plan your visit accordingly.
What are the opening timings of the Prague Castle complex?
The Prague Castle complex is open every day of the week from 6 AM to 10 PM. Make sure to check the Prague Castle timings before you visit.
Can I get access to the St.Vitus Cathedral with my Prague Castle tickets?