Plan Your Visit To Prague Castle | Timings, Getting There, Tickets & more
Table of Contents
Built in the 9th century, Prague Castle or Pražský hrad is the largest ancient castle in the world as per the Guinness Book Of Records. The large castle complex covers over 70,000 square meters and is currently used as the office of the President Of the Czech Republic. The castle is more than just an architectural wonder as it has played an important part in Czech history while being the seat of power for Bohemian kings, Roman emperors, and presidents of Czechoslovakia. Currently, the Castle compound has been opened for the public, and its architectural marvels and historical importance attract over a million visitors annually.
Prague Castle Location
Address: Hradčany, 119 08 Prague 1, Czechia
Prague has a well-planned network of public transportation services. This makes it easy for visitors to visit the Castle from any part of the city using a bus, tram, or cab service. Prague Castle has multiple entrance gates, each with its own nearby tram or bus stop. You can also get a cab or book car rental services from the Prague airport or Václav Havel Airport Prague (PRG) to Prague Castle, about 12.2km away or a 22 min drive.
Directions to Prague Castle
Getting To Prague Castle
Prague has a well-planned network of public transportation services, that can help you reach Prague Castle from anywhere in the city.
By Tram
Tram Lines: 22 & 23
Tram is probably the best and the easiest way to get to Prague Castle. The easiest way is to get down at the Pražský hrad tram stop, and you will reach the 2nd Courtyard of the Castle after a short 5 min walk.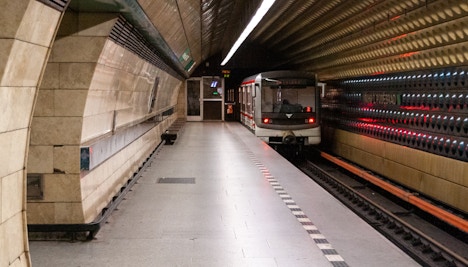 By Metro
Metro Line: Line A (Green)
Traveling via metro is quite popular in the city as it is a convenient way of traveling from one corner of the city to another and is one of the fastest ways to reach Prague Castle. The nearest metro station is Malostranská.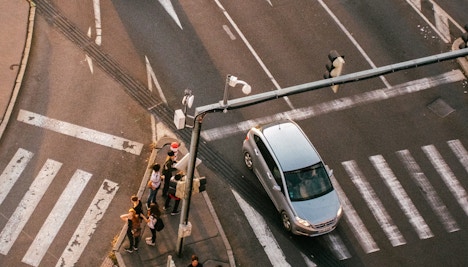 By Car
ETA From Airport: 22 min
You can use Prague's taxi service or rent a car for yourself to drive to Prague Castle. You can get off at the Hradčanské square or at the tram stop Pražský hrad tram stop to reach the castle.
How to buy Prague Castle Tickets
Over 1.8 million people visit Prague Castle every year. With Prague Castle operating under limited capacity and admission being reservation only, getting on-site tickets can be tough. So, it is always wiser to book your tickets online in advance and enjoy the convenience of skipping past the ticketing lines to gain access to the attraction without any waiting.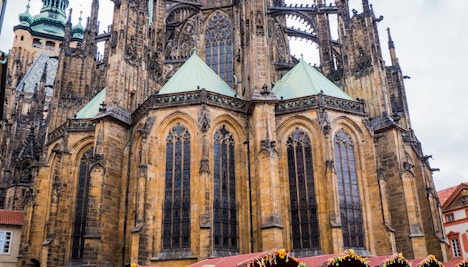 Skip The Line Tickets
Prague Castle offers skip-the-line tickets, which allow visitors to walk past the long ticketing lines and get direct access to the attraction. Visitors get complete access to areas in the castle compounds that are open to the public, including historical buildings including St. Vitus Cathedral, St. George's Basilica, Golden Lane, and more.
Book Now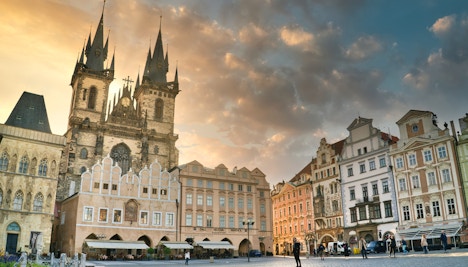 Guided Tours
Prague Castle offers guided tours of the castle compounds. You can choose between live guided tours or tours with an audio guide to help you in your experience. Get to know interesting facts and legends about the Castle. Pick the language of your choice and learn about the history of the beautiful Castle, our experienced guide as he takes you around.
Book Now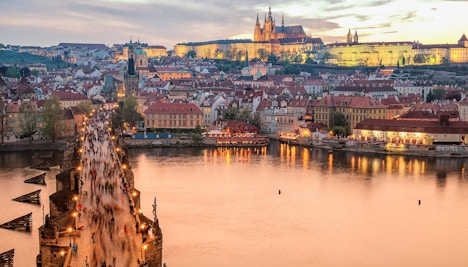 Combo Tours
Choose from a variety of combo tours, with each offering you an additional benefit. From combos offering you a tour of Prague Castle and other attractions nearby to tours taking you to the best places in Prague, we have it all. Choose a tour as per your preferences and make your visit to Prague Castle a memorable one.
Book Now
Things To Do Near Prague Castle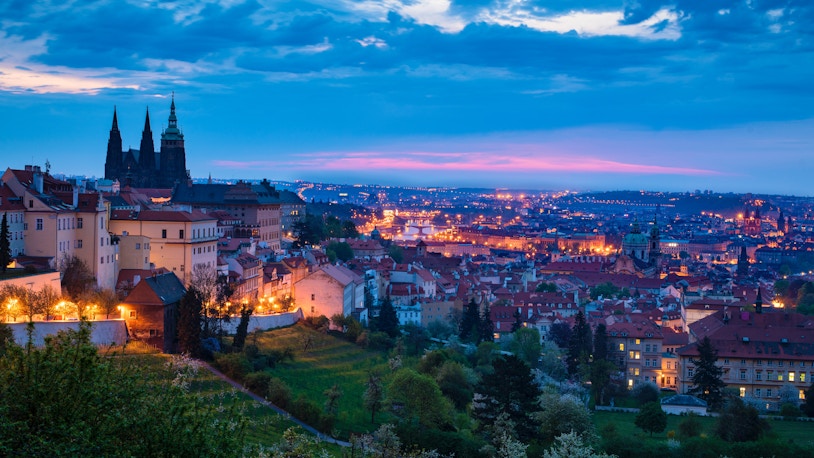 Old Towns Square: Explore the historic place in Prague's Old Town Quarter. It features several historical buildings like the Church of Our Lady before Týn,  exhibiting unique architectural style.
Charles Bridge: The medical stone arch bridge in Prague was originally called the Stone Bridge. Built over the Vltava river, the bridge stood as an important connection between the Prague Castle and its neighborhoods.
National Museum: Founded in 1818, the historic building of the National Museum of Prague houses over 10 million items of natural history, history, arts, music and has them on display for public viewing.
Prague Cruise: Enjoy exploring the center of Prague in a unique way by taking a luxurious Prague cruise on the gorgeous Vltava River as you sail past Prague's major attractions and under the Charles Bridge.
All Your Questions About Prague Castle Answered
Q. What is the best time to visit Prague Castle?
A. Try to visit the Castle grounds by 8:40 AM so that you get to spend an ample amount of time in the beautiful Castle gardens before you start exploring the historical buildings. It is better to start exploring the castle ground in the early hours as the crowd starts to gather up at noon.
Q. What is the easiest way to reach Prague Castle?
A. Prague has a well-planned network of public transport systems. But the tram is one of the best and probably the easiest way to reach Prague Castle. Make sure to plan your visit accordingly.
Q. Is there any metro stop near Prague Castle?
A. The nearest metro stop to Prague Castle is Malostranská.
Q. Is St. Vitus Cathedral closed on Sunday?
Q. Where is Prague Castle located?
Q. Which are some of the important areas to visit in Prague Castle?
A. Golden Lane, St. Vitus Cathedral, Old Royal Palace, St. George's Basilica, Great South Tower of the Cathedral are some of the important areas you must explore during your visit. Make sure to learn more about Prague Castle before your visit to make the most of your experience.
Q. Is Prague Castle tickets available online?
Q. What is the cost of Prague Castle tickets?
A. Prague Castle tickets are available at various price ranges, starting from €16, with each ticket offering a unique feature or benefit. You can get further details on the Prague Castle tickets page.
Q. When was the Prague Castle built?
A. The Prague Castle was built in the 9th century. Further expansion and renovation work continued later on. You can get to know more about such information on the history page of Prague Castle.
Q. Are guided tours available at Prague Castle?
A. Yes, there are guided tours available at Prague Castle. You can also book tickets with audio guides. For more information, check the Prague Castle tickets page.